Reducing Threats and Improving Efficiency: Closed Systems in Industrial Transport
Manufacturing and warehousing operations are reliant on even small changes in processes to save thousands of dollars. And it is important to understand the implications those changes can have not only on process, but on security within the company. With automation, a number of AGV equipment manufacturers are highlighting the value of integrating their products with IoT (Internet of Things) connectivity. Unfortunately, that connectivity can lead to security breaches and add additional, unnecessary costs.
Security Through Simplicity
Whether you are dealing with government-regulated materials or typical compliance needs, data security is essential to your competitive advantage. The simple fact is that even if you don't use the connectivity features of your devices, they can still be left vulnerable. Poor programming, ineffective quality assurance and testing, and even malicious back door programs can provide a way into your company's internal systems, including other devices and technology connected to your wifi or ethernet. That can make it difficult to try and secure a vast network when your IT team has to figure out how to lock down the network. Particularly locking down an autonomously guided vehicle that they were not aware was even on the network.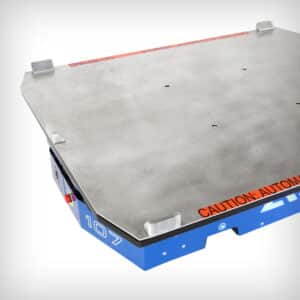 An alternative like the FRED2500 from ASI eliminates this issue entirely. FRED is an AGV that uses a magnetic taping system as its means of navigation, requiring no communication with any other devices in order to operate. Like other pallet movers, it can move 40×48 pallets and euro skids with certainty, with a max payload of 2,500 lbs, and FRED does it without needed an internet connection. FRED is rugged with a 0.9-inch ground clearance to maneuver on rough surfaces and includes sensors for reducing collision risks, and avoids these issues without wifi. See FRED in Action.
By not adding additional bells and whistles via the Internet of Things, FRED2500 has made it easier for facilities to remain secure and protect their data, intellectual property, and sensitive financial information.
Streamlining and Your ROI
All-in-one and Internet of Things enabled autonomously-guided vehicles can be expensive. By focusing on the key goal of conveyance, FRED2500 focuses on the best solution for this goal, streamlines its requirements and provides an affordable AGV for many industries. Purchasing managers can focus on the payload, reliability and safety features of FRED2500 and see a clear return on investment.
ROI is where FRED shines. Employees who deal with repetitive stress injuries often operate in the exact environments where this pallet-mover is best suited. Since there is no fatigue issue, employee alertness and ability to move to other tasks opens up opportunities to leverage workforce costs in different directions. By reassigning employees to higher value activities, FRED can impact your bottom line. In addition, FRED is easy to program via the magnetic tape strips for navigation, making it easy for companies to implement. Since FRED follows the magnetic strip and operates in two directions, it's easy for employees to get up to speed with the versatility of this 2.1 MPH pallet-mover. The simple setup of FRED saves you from tearing up your floor, installing expensive proprietary navigation systems, and increasing your internet and connectivity bandwidth costs.
Contact ASI Drives for your FRED 2500 Demo Today
ASI Drives has been a leader in propulsion technology and conveyance for industrial applications for decades. FRED2500 is a new way of approaching a problem that we have helped companies solve: effectively helping employees move equipment and cargo. We look forward to showing its capabilities in a no-hassle, free demonstration. Contact us today to set up your demo.